(Get it?),  New Album and Release Party at Seamonster Lounge on April 15th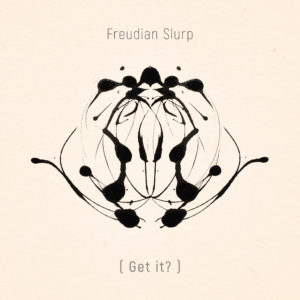 27th March, 2017
Cinematic Jazz Fusion band, Freudian Slurp is due to release their second album Freudian Slurp, (Get It?) on April 15th, 2017.  They will celebrate with an all ages event at The Seamonster Lounge, in the Wallingford neighborhood of Seattle.
For Full album advance dropbox link for press please contact Ian Hughes at freudianslurpmusic@gmail.com
Website: freudianslurp.com
Full album sales/preorder link: freudianslurp.bandcamp.com
When:  April 15th, 8pm
All Ages, $8 Cover
Location:  Seamonster Lounge,  2202 N 45th St, Seattle, WA 98103,  Web: seamonsterlounge.com
About the Album:
               (Get it?) shows a new direction for the band from it's predecessor Edible Complex. After some lineup changes, and years of playing shows and festivals around the Northwest, the group's sound has battle-hardened. The groove is tighter, the sounds are fuller. Slurp has both embraced a fully instrumental sound, and unleashed their early grunge influences to create something much less restrained.
About the Show:
The fusion act will be including a variety of special guest performers who will bring the sounds of the album to life! The band will feature local all stars, which are being revealed through the Freudian Slurp Facebook page over the next weeks.  
Freudian Slurp's normal lineup is Ian Hughes- Guitar, Dylan Hughes- Electric and Fretless bass, David Dolengewicz- Clarinet and Sax, Travis Fisher- Keys, and Kyle Kirkpatrick- Drums
Starting at 8pm, Beatbox and Trombone extraordinaire Colin Pulkrabek AKA Colin Response, will open the night up with a short set of loops and grooves, before he joins Slurp as a trombone player.