Freudian Slurp Sophomore Album, "(Get It?)"
Freudian Slurp just released their second album (Get It?) in early spring of 2017. The clarinet and saxophone driven compositions inspire images of characters and landscapes, with cinematic build ups that are evocative of car chases and fight scenes.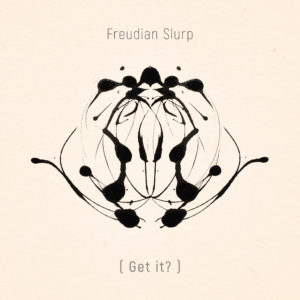 The album features a cast of Seattle locals, and Californian transplants. The Hughes Brothers, (pioneers with the Mo'Jam Monday house band: Dylan Hughes, electric bass and Ian Hughes, electric guitar) grew up in Seattle, and met their drummer, Kyle Kirkpatrick, in a jazz combo at Shoreline College. They have played with him in various groups for almost a decade.  Saxophone and clarinetist David Dolengewicz, and keyboardist, Travis Fisher, both hail from Southern California and have come to Seattle for the music.  David studied Jazz Arranging at the prestigious North Texas University before moving to Seattle and meeting Ian Hughes through local jam sessions. Travis moved with his band "Cosmopolites" to seek a larger musical market.
"Suave, melodious jazz funk that should appeal to fans of Chick Corea, Grant Green, Donald Byrd, and Ben Sidran." -Dave Segal with "The Stranger"
"The musicianship and interplay of Freudian Slurp are impeccably tight, as are the arrangements and compositions the band comes through with, but they aren't so complex and challenging that you can't just sit back in your chair and bob your head along to their songs" – Northwest Music Scene
(Get it?) shows a new direction for the band from it's predecessor Edible Complex. After some lineup changes, and years of playing shows and festivals around the Northwest, the group's sound has battle-hardened. The groove is tighter, the sounds are fuller. Slurp has both embraced a fully instrumental sound, and unleashed their early Grunge influences to create something much less restrained.
Booking and Management:
Ian Hughes – freudianslurpmusic@gmail.com
Recent and upcoming performances include:
Date
City
Venue
Country
04/06/18
Seattle, Wa
The Blue Moon Tavern
United States

Time:

9:00pm.

Age restrictions:

No Minors.

Address:

712 NE 45th St.