A Hard grooving, mostly instrumental fusion quintet led by Seattle native, Ian Hughes­ Guitar/Vocals. Freudian Slurp plays original groove tunes. Decorated with an adventurous sense of melody, blasphemous harmonies, and an occasional love song or quirky cover arrangement. The music combines Jazz, Rock, Funk and many other feels to weave a cinematic tapestry of sounds that don't take themselves too seriously.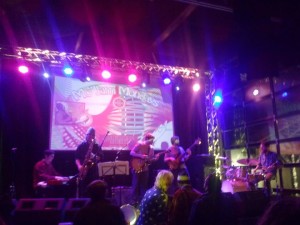 The group features Clarinetist/Saxophonist David Dolengewicz (Edgar Allen Potato, Da Beckoning Band) with the rhythmic power duo of electric bassist, Dylan Hughes (The Highlife Band, Morganica) and drummer, Kyle Kirkpatrick (Reef Encounter, Kaplundafunk, Spencer Glenn), and Keyboardist Travis Fisher (Cosmopolites).
             Check out their debut album "Edible Complex", a mellow, seven track, collection of original Dolengewicz and Hughes songs and instrumentals. Mixed and Mastered by "Yes" engineer,
Dave Dysart. Dave Segal from The Stranger calls it "Deceptively Smooth", "Skewed dinner-time jazz, sometimes like something the slick jazz label CTI might've released in 1977"
Available through CD baby, Bandcamp, and all other major internet distributors.
Recent and upcoming performances include:
No shows booked at the moment.