Seattle-based Freudian Slurp plays cinematic Jazz Fusion. The clarinet and saxophone driven compositions evoke images of characters, landscapes, and dramatic stories.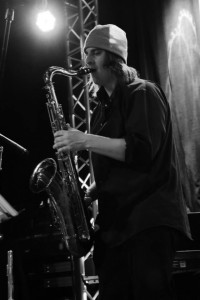 Dave Dolengewicz wails out soaring melodies and growling expressions that have been described as "Spy Movie Fusion" and "Circus Funk". Travis Fisher comes to the keyboards with his own mystical dark wizardry. Classically trained from youth, Travis' sounds go from Chick Corea to Prokofiev in a matter of moments with his own sense of unique percussive articulation. In addition to smashing the drum set in Slurp's ruckus live show, Kyle Kirkpatrick adds hand drums and other colors to the tracks to create new atmospheres for the listener. Lastly, the Hughes Brothers: Dylan and Ian, bass and guitar. Dylan is one of the hardest working musicians in Seattle and brings his super-funky grooves to the bottom end of Freudian Slurp, keeping it slippery, syncopated and feeling good. Ian Hughes is known around town for being a shredding Guitar player, full of soul and fury. His tasty little licks and harmonies make the songs pop.
    Freudian Slurp has been together for four years and is due to release their second album Freudian Slurp (Get It?) in early spring of 2017. In anticipation of the full-length album the band has released the Probable Paws single, now available to download via Bandcamp. "Probable Paws" is theme music for a 1970s prime-time cop drama, featuring a telepathic golden retriever that always fetches his perpetrator. The single also includes "Squarebeard", a bombastic characterization of a sinister villain with angular facial hair.
              (Get it?) shows a new direction for the band from it's predecessor Edible Complex. After some lineup changes, and years of playing shows and festivals around the Northwest, the group's sound has battle-hardened. The groove is tighter, the sounds are fuller. Slurp has both embraced a fully instrumental sound, and unleashed their early Grunge influences to create something much less restrained.
Recent and upcoming performances include:
No shows booked at the moment.